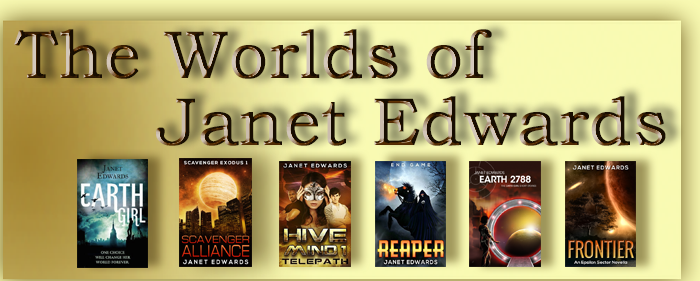 Welcome

Anonymous Reader

to the Janet Edwards Wiki
British Author of: The Earth Girl trilogy • Scavenger Exodus Series • The Hive Mind Series • The Game Future Series
A Collaborative Encyclopedia Everyone can edit pages and help to make it better.
For The Earth Girl/Scavenger series detailed information,
please visit our sister site
September Quote
"
You won't fail!" Phoenix grabbed Tad by the shoulders and shook him. "What happened to your insufferable ego? You're Thaddeus Wallam-Crane the Eighth. You're the last man in humanity to be webbed. You'll re-invent interstellar portal technology and stop civilization from falling!
"

– Phoenix to Tad,
Edwards, Janet. Scavenger Alliance (Scavenger Exodus Book 1) (p. 152). Wallam-Crane Press. Kindle Edition.
Add your favorite quote from one of Janet Edwards books to the Quotes page and see it here.
Latest News
Earth Prime - Aug. 24, 2020

Earth Prime is a collection of stories set immediately after Earth Flight.

Newest release is a collection of short stories and Novellas that take place in the aftermath of the Earth Girl Trilogy and before the Fortuna series starts. Author Janet Edwards has sent out an update, More news on Earth Prime.

Because this collection has grown to over 400 pages and it only covers the archaeologists, members of Asgard 6 and Cassandra 2, there will be a second collection published sometime in the first half of 2021 that covers the Military members and Jarra's family.



Important articles
This site, by its very nature, contains spoilers and other information that might influence your enjoyment of the novels. If this concerns you, we advise you to read each book or story for yourself before exploring any of the articles.
Tentative Release Schedule
Earth Prime - Aug. 2020
Hive Mind #5 - Dec. 2020/Jan. 2021
Aftermath Collection II - 1st half 2021
Scavenger Exodus #3 - TBD

Defying Doomsday and Rebuilding Tomorrow
For More information, See: News Update
Author's Website at Janet Edwards
Be the first to hear of a new release
Please sign up here if you'd like to get email updates when there's a new release by Janet Edwards or other information.
Free Stories
Home for Christmas
George Was Dead
If you are looking for Year End 2788 and / or The End, and the New Beginning they will be published in the forthcoming collection Earth Prime due out Aug. 2020. Your Move, Drago, Home for Christmas and The Wolf, the Goat and the Cabbage will be in the sequel to Earth Prime coming in the first half of 2021.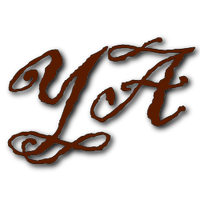 Young Adult Literature
Go to these sites for info or for help with your own wiki!
Artemis Fowl • Divergent • Gone • The Hunger Games • Lorien Legacies • Maximum Ride • The Maze Runner • The Perfectionists - Pretty Little Liars • Red Queen • The Selection • The Shadowhunter Chronicles
Want your community included? See how!

Community content is available under
CC-BY-SA
unless otherwise noted.